---
Now I am assembling the TB6612FNG test rig board
---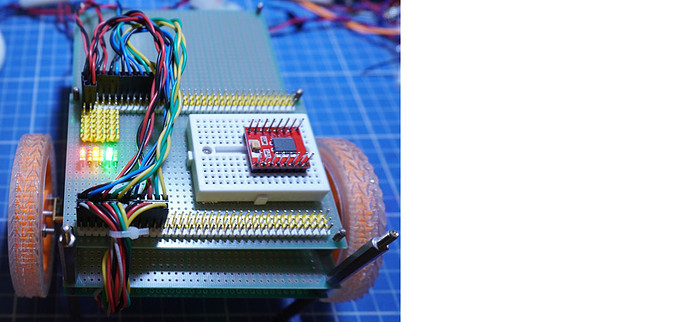 ---

Design note:
I have selected TB6612FNG which has separate PWM speed control for each motor, and not RDV8833 which does not have separate motor speed control.
---
TB6612FNG Programming Cheat Sheet

Next step is doing the wring, and try PWM speed control.
---
References
(1) pi-top/pi-top-Python-SDK - pi-top

(2) pi-top Python SDK (Preview)
(3) pi-top Python SDK - 6.3 Encoder Motor
Note from SDK 6.3: pi-top motor encoders use a built-in closed-loop control system, that feeds the readings from an encoder sensor to an PID controller. This controller will actively modify the motor's current to move at the desired speed or position, even if a load is applied to the shaft.
---
Appendices
Appendix A - pi-top Python SDK (Preview) - DIY Rover API
A simple, modular interface for interacting with a pi-top and its related accessories and components.

This SDK aims to provide an easy-to-use framework for managing a pi-top. It includes a Python 3 package (pitop), with several modules for interfacing with a range of pi-top devices and peripherals It also contains CLI utilities, to interact with your pi-top using the terminal.

Status: Active Development - This SDK is currently in active development.

Backwards Compatibility

The SDK is included out-of-the-box with pi-topOS.

This library is installed as a Python 3 module called pitop. It includes several submodules that allow you to easily interact with most of the hardware inside a pi-top.

4.2. Robotics Kit: DIY Rover API
$ 4.2.1 Import modules
from pitop import
(
EncoderMotor,
ForwardDirection,
BrakingType
)
$ 4.2.2 Setup the motors for the rover configuration
motor_left = EncoderMotor("M3", ForwardDirection.CLOCKWISE)
motor_right = EncoderMotor("M0", ForwardDirection.COUNTER_CLOCKWISE)
motor_left.braking_type = BrakingType.COAST
motor_right.braking_type = BrakingType.COAST
$ 4.2.3 Define some functions for easily controlling the rover

  def drive(target_rpm: float):
      print("Start driving at target", target_rpm, "rpm...")
      motor_left.set_target_rpm(target_rpm)
      motor_right.set_target_rpm(target_rpm)

  def stop_rover():
      print("Stopping rover...")
      motor_left.stop()
      motor_right.stop()

 def turn_left(rotation_speed: float):
     print("Turning left...")
     motor_left.stop()
     motor_right.set_target_rpm(rotation_speed)

 def turn_right(rotation_speed: float):
     print("Turning right...")
     motor_right.stop()
     motor_left.set_target_rpm(rotation_speed)

 $ 4.2.4 Start a thread to monitor the rover

  def monitor_rover():
      while True:
      print("> Rover motor RPM's (L,R):", round(motor_left.current_rpm, 2), round(motor_right.current_rpm, 2))
      sleep(1)

  monitor_thread = Thread(target=monitor_rover, daemon=True)
  monitor_thread.start()
  # Go!

  rpm_speed = 100
  for _ in range(4):
      drive(rpm_speed)
      sleep(5)

  turn_left(rpm_speed)
  sleep(5)

  stop_rover()